Once Cruelty Free, Always Cruelty Free
I never thought it was a good idea to talk about this issue. This isn't something I usually write about, but my blog is ever expanding on the things I write about.... even to a point where I'm willing to talk about the side of me where I can be girlie and such.
So, what's this rant about? Well, one of my favourite cosmetic companies which I've been buying from recently has been bought by a bigger company for a whopping $1.4M.
Yes, this does happen in the business world and will happen again. I don't know much about businesses since I never really took classes in them. I tried to take an intro to business in high school but dropped it after failing a test I didn't study enough for.... plus, I couldn't understand anything in it!
Too Faced is the brand that I've been buying from, ever since I walked into Sephora one day and started oohing and awing all their adorably packaged products. It's easy for me to get turned on by cute stuff as much as starships commanded by aliens, monsters that tower over skyscrapers, and long-haired guitarists on stage can, so yeah you can imagine what made me decide to buy their stuff.
I've got an eyeshadow palette by them with bon bons of colours, a cute pink blush and some lipstick (which I plan to buy more of since they've been working great for me).
Yep that was me when I saw their products
So, what's the issue here? The issue is that a bigger cosmetic company called Estee Lauder now officially owns Too Faced and you can imagine people's reactions to that are negative; since Too Faced is known for their cruelty free products and have been for decades, it's no wonder the ladies are freaking out. Most of those people are either vegans, long time customers, or love every single animal on the planet that exists.
I'm definitely not a vegan, nor have I known Too Faced for a long time, but of course I love animals, who doesn't? Anyway, as soon as this was announced, ladies were outraged and vowed to never buy from TF again because EL still hasn't become 100% cruelty free. In most cases, they do not test on animals unless required by law which is unfortunately required to sell in China. That's fucked up but I really hope China wakes up and realizes that it's not necessary to do such cruelty.
The company stated over and over that they will never test on animals regardless of what happens from now on. But the girls refused to believe them, even when one of the co-founders said that statement.
While some ladies were whining about how TF was "no longer cruelty free", some continued to state over and over that regardless of the company's morals, everyone's money would still go to EL making them almost subconsciously support animal cruelty. Yes, this is unfortunate but if you've used TF's products for years and they've worked for you, why boycott them now? The furthest they go with their complaints is when they fetch pictures of poor little rabbits with rashes on their bellies from foundation, or they are blinded from being tested on for eyeliner or mascara...and then they comment it screeching: "THIS IS WHAT YOU NOW SUPPORT! I WILL NEVER BUY FROM YOU AGAIN!!" You may believe that if they feel that strong about cruelty free beauty that they shouldn't allow themselves to be sold like this; you have to understand that they may have a good reason for this, and it may not have entirely to do with greed for more money. If you truly are loyal to them you'll know that they will never test on animals. People these days on the Internet make such mountains out of molehills it's almost entertaining.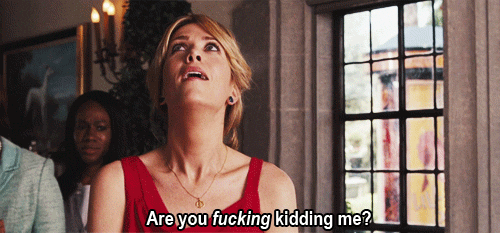 Annie says it all
This is just as bad as when fans choose to abandon a musician, actor, or athlete they idolize because of differing political or religious views. There are better things to worry about than that, especially ones relating to material things in life. You want my opinion on Too Faced being bought by Estee Lauder?
Well, after doing a bit of research, I learned that Jerrod; one of the co-founders was a former employee at EL, or so I've heard. So, EL knows what his morals are, they know that he wishes for his brand to stay cruelty free and apparently, EL is working towards that as well. It's a slow process but it's better than nothing.
My stance on animal testing; yes I do think it is a horrible thing to do, plus is there any scientific evidence that proves that doing it ensures that your lipstick is safe to apply? Probably not. Thanks to Kat Von D who is deeply passionate about stopping animal cruelty in the cosmetic industry; she made a strong valid point about why testing on animals is wrong. You can access it
here
But, regardless of whether it is right or wrong to test on animals, does it really matter that much? When it comes to my own beauty, I honestly don't give a shit about where the makeup comes from. I put myself first in a situation when I would like to get a nice eye shadow palette or need to replace my favourite foundation: If I try it and like it, I buy it. If I continue to use it and love it, then I will buy it again once I use it to the last drop or grain of powder or it expires. End of story.
It's like this: My BB cream and concealer are Smashbox
My perfecter and eyeliner are Stila
My mascara is Lancome
My eyeshadow is Too Faced and Kat Von D (might even consider trying some Urban Decay shadows in the future)
My blush is Too Faced
and my lipstick is a mixture of Too Faced and Gosh Copenhagen
Some of those brands are cruelty free, and some of them most likely are not. Am I complaining? No, because what matters is that they work for me. I like TF's liquid lipstick because it's proven to not dry out my lips as much as other liquid mattes have. That Stila putty perfecter has been a life saver for me for several months, and I've been using that BB cream for years. Simple as that.
Thank you James, nothing else does matter other than the fact that my makeup looks nice on me
So personally, there is absolutely no point in boycotting Too Faced over this. Plus, this has happened before in the cosmetic industry. Urban Decay is a cruelty free brand too, and they were bought by L'Oreal that aren't. I wonder how long UD fans complained for until it finally died down. Despite that partnership, UD is still cruelty free. Don't believe me? Go to their website, scroll to the bottom, and you'll find all those cruelty free logos including the rabbit with the heart shaped ears and the leaping bunny. Pretty much every vegan brand has those on their website. You know they are deeply committed to this and it'll be a cold day in hell before they change those morals and those logos are removed by PETA.
My message to all those ladies (especially the ones who live a vegan lifestyle) who are upset about this: When it comes to your personal beauty choices then you need to chill the fuck out. At the same time, if you are truly passionate about stopping animal cruelty in the cosmetic industry: Take action against it, don't run away from it. Don't get mad at Too Faced, get mad at Estee Lauder! They're the ones who are not 100% cruelty free and they are the ones who bought Too Faced! Do whatever you have to do; sign petitions or write letters to them that this is not fair to innocent little rabbits. If you're passionate about a cause, you'll strive to seek a change and the word I'm looking for what you seek for that cause is: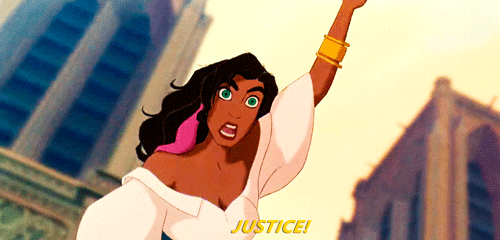 No one says it better than Esmeralda
In fact, I decided to take action once I learned about EL's acquirement of TF. I went to PETA and traveled to their page where we could sign a petition to be sent to EL and other big cosmetic brands that still test on animals to sell in China. As I write this, they are close to 170,000 signatures in order to reach out to those brands to get them to stop. Only 3,452 to go. I didn't spend much time on there after that because I don't agree with everything PETA stands for....mainly due to the fact that I'm not vegan and don't ever see myself becoming one.
Anyway, if you're not willing to sign a petition or whatever, like I said; boycotting the company won't change anything if you're so afraid of where your money goes. If you continue to buy from cruelty free brands, and they remain popular; then perhaps the outcome will be that their parent companies will realize that the little brands they have bought are more popular for one good reason: They are cruelty free. Whether part of my money goes to EL or not when I buy my TF Melted Matte lipstick, if myself and many other women continue to buy from TF because of that, then maybe EL will get the message and stop animal testing for good. Here's to hoping the Chinese government also considers it as well.
At the same time, don't make a mountain out of a molehill over it because frankly there are better things to worry about in life.
I hope any ladies who read this have had a change of heart on what their reactions are to this business choice made, or they have decided to advocate. There will be hope for the future if you stand up for what you believe in and continue to support.
👽Emily